SITE NEWS | Displaying all news items. Show Default
2008-10-21
I've decided to update the site for the first time in ages. The SQL database was broken for some time when the server was upgraded. Digression: users were disassociated with the databases so there was no access. As I started updating this news clip, I just realized that this is exactly two years from the last update! Woot.

The big news: I moved. I'm currently living in Fort Collins, Colorado. I've taken a new job with Intel working on the Itanium project. Life is good in general. Drop a line and say hello!
2006-10-21
I have some new photos of the wedding to share! Ben has graciously allowed me to post a link to his shots from the wedding weekend. These include pictures of the rehersal dinner which were previously unavailable. Thanks Ben! Photos.
2006-08-07
Couple things to share since I haven't posted in so long.

First of all, the photos from the wedding are in progress. It'll likely be a few more weeks before albums are posted here. I've got an enormous amount of photos to parse through (literally thousands). Thank you to everyone who shot a photo and sent it along! We're going to have one heckuva collection. Incidently, if you haven't sent photos you've taken yet, feel free to send an e-mail to the photos account on this site. (E-mails are never displayed publicly as that just invites spam.)

Second note, I've been sold. I'll be a former Intel employee in November. Marvell is the acquirer for my group. I'd blog about some of the details, but that's probably a bad idea. The jist is - it's a good move for me, and I'm staying in Phoenix. About 400 of my co-workers were affected by this in the Phoenix area (I'm pretty sure that's public knowledge by now).
2006-04-29
Shannon and I are married! I am a very happy man today!

I know that family and friends will be checking the site to see photos. I don't have my personal album up yet - I didn't take any photos, busy you know. So for now, you can browse the nearly complete album over at Walt Palmer's website (our photographer). We're the good looking couple. Photos from the disposable cameras and from family and friends will be shared here as soon as I can get them up.
2006-03-12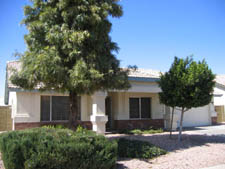 I have completed the house gallery. We're both very excited to share these photos with you all. Please take a tour at your leisure.
2006-02-26
Another announcement! Today, Shannon and I closed on a house in Chandler, AZ. It's a three-bedroom, two-bath ranch settled in the southeast Phoenix valley. More details will come this week as I add photos of the house inside and out!
2005-05-30
I'm very happy to announce the engagement of Shannon Buckland to myself! I popped the question back around Valentine's, and couldn't be happier with the response. To the left is our engagement photo. We're planning an April wedding in Colorado, and more details will follow.
2004-11-21
Two days ago my site quietly celebrated one year on-line! Congratulations aDiamond isForever & aDiamond .org! This site was launched thanks to the efforts of my friend Mike back at RIT who helped me get setup with A Small Orange for hosting. After some work with my first camera, a Canon S400, I began to post albums online. By the time I had turned my camera in for the robust Canon S50, PHP was in place to handle automatic album uploading. Today the site boasts 28 albums online, and a caring audience of family and friends. [Holding up a glass of OJ] Here's to another year of web development and enjoyment by all!
2004-11-18
Insane, but I FINALLY updated the site with some new photos. The gallery is notably lacking summer photos. Still to be uploaded are some Rochester friends (pending certain permissions), Estes Park, CO, and other Colorado shots, and of course: graduation. The new albums are all from Arizona, including Camelback Mountain, The Grand Canyon, Sedona & My Car, and 1st Water Trail. The albums include beautiful mountains, my Pebbles, Cacti galore, a tarantula in the wild, and some desert views. Check them out, drop a line. Oh, I also popped a photo of one of my lizard friends and added it to the Apartment Album.
2004-09-10
I'm preparing to leave for Albuquerque for the weekend to visit. Thus ends another week at work. Doom3 is highly recommended, laptops are awesome for portable computing power, and take photos every time you think of it. Also, lizards are your friends, unless they're Gila Monsters, then they're not your friends.
2004-08-30
Browse the gallery, you might notice some new Israel photos. The entire trip is now up, although there are no photos with people ('cept me and Dad). That's because I didn't get permissions yet. If you're one of those people (talking to you Bob!), use the contact button on the left to drop me a line. And to anyone reading the site, jot a note with the Contact Me button, and if you'd be so kind, leave an e-mail address so I can reply. Enjoy the scenery.
2004-08-28
A week of working in mid-100° weather has taught me much, such as - don't go outside. I went ahead and joined a swing dancing session last night, and I attempted to enjoy King Arthur at the cheap show today. I've also purchased plane tickets today; my Thanksgiving vacation is official - Wed-Sun I'll be in Jersey. I suppose there's more to tell, this week I hope to let some pictures do the talking.
2004-08-24
Hello from Phoenix! I know a lot of you haven't heard from me in a while, and let me explain. I've been a little busy since 8/6 when I flew out to CO. I've been in PHX since 8/13, and I just got home from my second day of work. The apartment is very nice, my window overlooks a park. My job is great, though I'm still not sure what specific task I'll end up performing. For now I'll be doing circuit design on a next-generation X-Scale core. I've also been living out of a suitcase since the 6th (Wow, that long?), and my stuff (including computer) will finally arrive tomorrow. I'm typing this on my new IBM laptop (T41), this is the first time I've been online since flying out. You might also be interested in my car purchase: Mazda 6 V6 w/Leather, 6-CD Changer and alarm. I'm also strongly considering getting the windows tinted. There'll be more updates soon, and I'll post pics of my car and the vicinity. Cameras are not allowed on the Intel campus, so no pics of the cubicle. Anyone's welcome to call, my cell phone number hasn't changed. There's also a contact link on the left which you can use to e-mail me (or just e-mail me).
2004-07-28
Well it's been a long time coming, but I figure a formal announcement is necessary. I'll be moving (permanently) to Phoenix, AZ. I've officially accepted a job with Intel as a Component Design Engineer. Eventually I will update the site with some details about my work. Also, once I'm setup in PHX I'll try my best to update the gallery with Israel and Graduation photos. Wish me luck!
2004-05-25
Well, I've graduated from Rochester Institute of Technology with my BS in Computer Engineering. Here's the GQ photo from graduation. Clicking on the photo will yield a high-resolution version.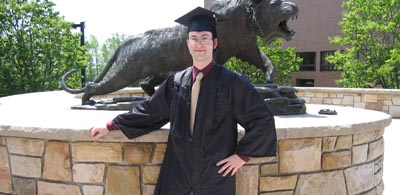 2004-05-18
Unfortunately, Israel photos may not be online for a little while, as I haven't gotten permission from the participants to have their photos available. Since I did want to share a taste, below is a panoramic shot I took of the old city from Mount of Olives. Clicking on the photo will yield a high-resolution version.


2004-04-26
The NYC Auto Show 2004 is up in pictures. My favorite areas were the Ford display (GT, Mustang, Bronco concept, 500, etc.), Audi's "I Robot" concept, and the brand spanking new Corvette. Take a peek.
2004-04-16
The gallery system is nearing completion. I've finally added titles and descriptions to individual albums. Check out the new comments and titles with a quick visit.
2004-04-02
I'm heading for NJ tomorrow, I will continue updates afterwards. At the subject's request, several photos were removed from the gallery. I may end up creating a "Family and Friends" section of the site so that people aren't worried about their photos being freely available.
2004-03-24
Began work on updating the gallery system to handle album titles and descriptions as well as photo captions.
2004-03-20
Added a PHP system (with a new MySQL DB backend) for the updating and display of news items. For now only two viewing forms are available: view the newest seven dates, or view all dates. The about page is now online. Special thanks to Ben for the photo!
2004-03-11
I've entered captions for all photos but one. Now you all can know what the heck you're looking at! Comments? Drop a line.
2004-03-08
Well, I've returned from my road trip to DC. There are six new galleries to view, including one which contains photos from January and February that never got online. Captions will be up soon.
2004-02-18
There are now two posters online. I'm still looking for the original of my senior design project. When I find it, it'll be up right next to the other two. I chose the PNG format for full-size images, so your browser needs to support them in order to view them. They're under projects by the way.
2004-02-11
I've removed the webmail link as there is no need for me to install a separate system. The pre-installed NeoMail client is good enough for me. There's been quite a few downloads of the apache movie, and very little talk about it. I'm wondering if anyone had thoughts on it. Drop an email. [The link will not be posted anywhere within the website. Request it if you want it.]
2004-01-24
Well, I did it. The captioning system is in place with captions for nearly every photo. Let me know if you like/dislike the format, I'm open to suggestions. Code for this will be up along with the full gallery code when I deem it to be version 1.0.
2004-01-20
I have, as of 12:30pm today, purchased adiamond.org. For now, that domain will simply point to this one. However, I feel it is a shorter, nicer domain for correspondance, etc. I have added preliminary caption support with a MySQL db in the background. Administration is also in place. The captions will make their way to the gallery when I can settle on a nice format.
2004-01-13
I've uploaded five new galleries: go check out the photo gallery. Notice that if you want original photos (without cropping, resizing, and other adjustments made for the web), send an e-mail to photos@adiamondisforever.org. Don't forget to note the image number. You might also notice the new rollover images for the tabs.
2004-01-04
Happy new year! There's much on my plate between my job, my secondary jobs, classes, and finding a job. So it may be a bit before I update the site. First two things on my plate are a new album for this last vacation (~130 photos), and the projects/about section (which will be totally self-serving).
2003-12-18
I leave for NJ tomorrow. There will likely be no updates until I return (1/5). I wish everyone a wonderful holiday and a happy new year!
2003-12-15
Uploaded the Idaho pictures finally. Added a link to the upcoming webmail system on the left. I'm using that page for testing, so there won't be much on it.
2003-12-09
Working full time now, updates will be a little less frequent. How in the heck did my counter get reset?
2003-12-06
Added the project page. I plan to upload project documentation for viewing. For now, there is simply a listing of my relevant project work.
2003-12-05
Added a sort function to the gallery so now albums/photos show up in order. Uploaded some new albums including the much-requested party pics. Also uploaded the DDR movies for download.
2003-12-04
The retooled PHP is somewhat up. I now have an gallery/album system so I can easily upload and view multiple albums. The next addition will be comments/captions for the albums and individual photos. When I'm done, I'll put the code up for viewing.
I appreciate all the positive comments so far!
2003-12-03
Up goes the first gallery. I'm working on retooling the PHP so it's more dynamic. For now, I've uploaded 2003.11.04, one of those artistic days. By tomorrow I hope to have more albums up and a root gallery.
2003-12-02
I've written a very basic gallery PHP code. Now I have to generate thumbnails for all my photos so I can put them up. You can expect a viewable gallery in perhaps a day or two. View the sample here. It is dynamic, but I only currently have 5 sample images up.
2003-12-01
Back in ROC. Took 'bout 45 pics in Idaho, and maybe 10 are decent. Got some good family/friends photos though. I will put up a gallery with all my photos as soon as possible. Right now, I gotta get my quarter setup.
2003-11-23
Going on break to NJ, so no updates until December 1. First thing to go up will be the gallery. Hopefully I'll have some good pics of Idaho!
2003-11-20
Design modified, added the color green. First PHP script added (counter below).
2003-11-19
Hosting found! adiamondisforever is now hosted by timdorr.